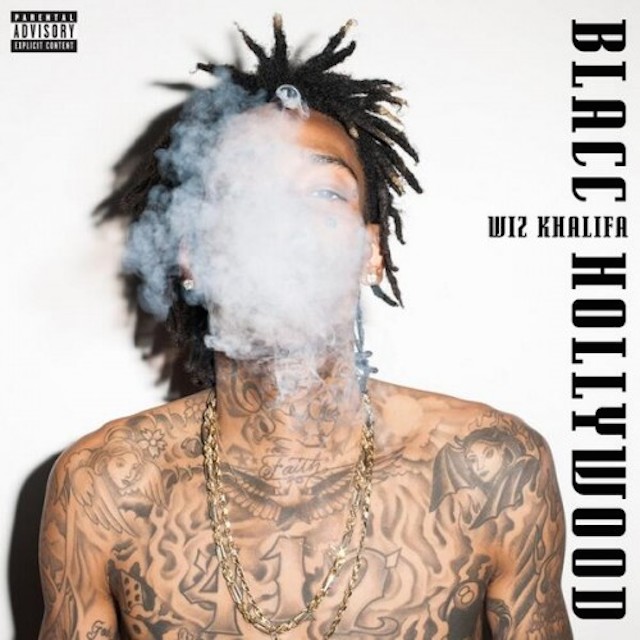 The hard work that was put into this album is admirable. Wiz Khalifa is expected to be releasing his fifth studio album, "Blacc Hollywood" on August 19, 2014. The singles already released from the album include; "We Dem Boyz", "KK", "Promises", and "You and Your Friends".
Overall, there isn't an overabundance of collabs on this album, which is what most artists these days tend to do. Khalifa did provide some collabs from label-mate Ty Dolla $ign, label-mate Chevy Woods, Snoop Dogg, Rick Ross, Nicki Minaj, Curren$y, Schoolboy Q, and Nas. It may seem like a long list, but most appear all on one song, including the "We Dem Boyz (Remix) which features Rick Ross, Schoolby Q, and Nas.
About a week ago, Khalifa surprised his fans with a link where his new album could be streamed for free until the album is released Tuesday. http://www.mtv.com/artists/wiz-khalifa/
A few months ago in an interview with Vlad TV, Khalifa made the following statements:
"It had a lot to do with just getting the whole vision in order. And just making sure that when this came out that it's really pushing me forward in my career and in my life. And not just putting music out to put it out. And Atlantic they really understand me, you know, as an artist. They want the best for me, so we just had to really come back and rearrange some things and just make sure that the visual's clear. So, when it does come out we can kill it how we're supposed to.
"Just to get everybody to—Like all the really creative people and the masterminds behind the shit that people see. I just wanted them to embrace their mind state and really have somebody telling them that their game plan is cool enough for the world. Cause I come from that whole underdog and that whole behind the scenes and then to the front of the scenes era. So, I just want people to know that I got em. I'm holding it down…I wanted to get away from the color of it, first of all because a lot of people associate black Hollywood to like the blaxploitation movies or just black actors in general. So, I just wanted to get away from the color and just more aiming towards an attitude and the more general purpose for everybody."
As a huge Wiz Khalifa fan, I immediately listened to the entire album beginning to end when he released the free streaming link. All that needs to be said is this album will sell millions of copies. Many of Khalifa's fans have claimed he has "sold out", but I believe with this album he silences all critics. I'm not saying this just because I am a fan, but this album may be a candidate for hip hop album of the year. It is indeed that good. From the first track on the album with "Hope", to the last track with "You and Your Friends", Khalifa had me inspired.
"Promises", may the dark horse track to end up becoming a big hit in the music world. It is indeed a song for the mainstream hip hop, but at the same time Khalifa stayed with his roots and provided everyone with another banger. Going back to his singing ways on that track reminded me of "Up", off of his mix-tape "Kush and Orange Juice".
The message provided on this album is primarily for the younger the generation and it is meant to inspire everyone to be whatever it is they want to be. My personal favorite track on the album is "No Gain". Khalifa explains in that track how hard he truly works and what he has on his plate as a man, and as a father. As a father myself, I can relate to a lot of what he was saying and honestly, it motivates to be a better person and continue to chase my dreams.
Overall, I give this album a 9 out of 10 rating. Absolutely stunning album to say the least and I expect it to sell big time. I don't see why it can't go platinum, especially since he has yet to release his single with Young Money artist Nicki Minaj, "True Colors". If you haven't streamed the album yet, I highly advise you to listen to it, if you would rather wait until August 19th, then get it in stores or preorder here: https://itunes.apple.com/us/album/blacc-hollywood-deluxe-version/id896029984
Here is the track list for the album it is a must listen for not only hip hop/rap fans, but for music fans in general.
1. Hope (Feat. Ty Dolla $ign)
2. We Dem Boyz
3. Promises
4. Kk (Feat. Project Pat & Juicy J)
5. House In The Hills (Feat. Curren$y)
6. A** Drop
7. Raw
8. Stayin Out All Night
9. The Sleaze
10. So High (Feat. Ghost Loft)
11. Still Down (Feat. Chevy Woods & Ty Dolla $Ign)
12. No Gain
13. True Colors
14. "We Dem Boyz (Remix)" feat. ScHoolboy Q & Nas
15. "You and Your Friends" feat. Snoop Dogg & Ty Dolla $ign
#Blacc Hollywood
Follow me on Twitter @EspyHendrix
Image Cred: MTV.com